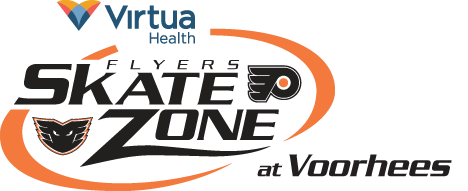 Learn to Skate- Voorhees
Invest in Your Children's Future with our Learn to Skate program.
The Learn To Skate program is an ice skating lesson. program. The lessons include 30 minutes of instruction and 30 minutes of supervised practice time.
Each program comes with a Basic Skills record book, United States Figure Skating (USFS) registration, free skate rental, and a Certificate of Achievement upon completion.
Our Learn to Skate program will have limited capacity and limited levels available for registration and participation. Current local, state and CDC guidelines will dictate our policies.
Registration is limited to ages 5 and up.
Snowplow Sam and beginners needing assistance will not be offered at this time.
Participants will be required to wear cloth face masks during participation.
Online Registration is Required!
Benefits of Learn to Skate
Sign-up one week before the start of any session & receive SIX (6) free public skating passes
Flyers Training Center beginner programs build character in addition to teaching fundamentals of ice skating and ice hockey to your child
Your child will learn from experienced certified instructors and coaches while also making new friends.
Learn to Skate Program Levels
Snow Plow Sam (Levels 1-4)- geared for our younger customers age 4-6 years of age (with no little or no skating ability)
Basic Skills (Levels 1-6) - geared to children age 6 years and up with little or no experience, each level increases the ability level of your child and or teenager
Freestyle (Pre Free – Freestyle 6) - geared for those who aspire to become proficient at skating and looking to be a figure skater
Hockey (Levels 1-4)- geared for those who want to become part of the Flyers Training Center Future Flyers Programs
For more information about the different levels of our Learn to Skate, please visit LearntoSkateUSA.com.
Check out our brochure for more information and register online!
Questions? Fill out the form below to contact us!